Go Back
Optimising Alt Text: 9 Best Practises for SEO
By Team Agaetis,
September 12, 2023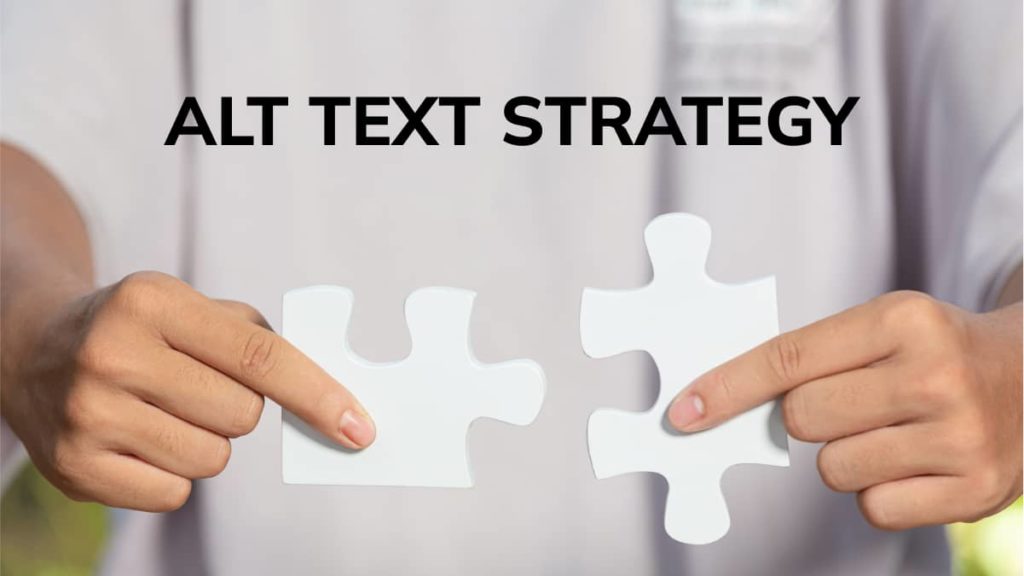 Alt text is more than just stringing together a few nouns and verbs you see in the image.
It is crucial for SEO. Google itself has affirmed that alt text plays a role in determining your website's ranking.
Especially in this era, the significance of describing your images for search engine crawlers has never been greater.
However, the real kicker is – Writing alt text requires a strategic approach if you want to improve your SEO.
This strategy not only makes your SEO more potent but also streamlines the process, giving you more time to focus on higher-level tasks.
After all, the more you align your keywords across your Content, Backlinks, and technical On-page SEO elements, the stronger your ranking potential becomes.
Optimising your Alt Text: 9 best practises for SEO
Now, we will dive into 9 strategies that will elevate your website's visibility and increase accessibility for your readers.
Let's go!
All Key Images should have Alt Text
Start by identifying the most critical images on your website, such as product images, infographics, or those supporting your main content.
Ensure each one has relevant words, and periodically revisit and update them to stay current.
Utilise it for Keyword-rich Images
Alt text should describe the image accurately and include relevant keywords.
Think of it as a concise, informative caption that helps both users and search engines understand the image's context.
Avoid Keyword Stuffing
While keywords are important, resist the urge to stuff alt text with them.
Google's algorithms are smart enough to detect the overuse of keywords. Keep it natural and relevant.
Aim for a balance between descriptive and keyword-rich content.
Additionally, consider the user experience and readability. If the words are too technical or difficult to understand, users won't benefit from it.
Add to your Most-Visited Pages
Focus your alt text efforts on pages that receive the most traffic. These are the pages that can benefit the most from improved SEO.
Additionally, focus on pages that have been recently updated or created. These pages are more likely to be indexed by search engines, so optimising them can help boost your SEO.
---
You might be interested in:
---
Automate the Process with Plugins
Save time and ensure consistency by using plugins or AI tools that can automatically generate alt text for your images.
These tools can be a game-changer for large websites with numerous images.
Structure your Content
Organise your alt text in a clear and logical manner. Use sentence or phrase structures to make it easily readable.
Avoid long, rambling descriptions. Neither search engine crawlers nor your readers are interested in reading that.
Prioritise Accessibility
Remember, this practise isn't just for SEO, it's also crucial for web crawlers and reader's accessibility.
Google takes accessibility seriously, so any omission of alt text could negatively impact your site's ranking.
Transcribe your Content
If your images contain text, make sure to transcribe this text into your alt text. This practice enhances both SEO and accessibility.
Additionally, transcribing can help search engines better understand the context of the image.
This can especially help users with disabilities who rely on screen readers to read out text on web pages.
Adapt to Changes and Evolve
SEO is an ever-changing field.
Regularly assess your strategy, adapt to new SEO trends, and evolve your approach to keep up with Google's algorithms.
On an Ending Note:
We hope our Article helped you!
By implementing these strategies, you not only enhance your website's ranking potential but also improve accessibility for all users.
Remember, SEO is an ongoing journey, so stay vigilant, adapt to changes, and watch your website climb the search engine rankings.