Go Back
Top Backlinks Checker Tools (2023)
By Team Agaetis,
August 23, 2023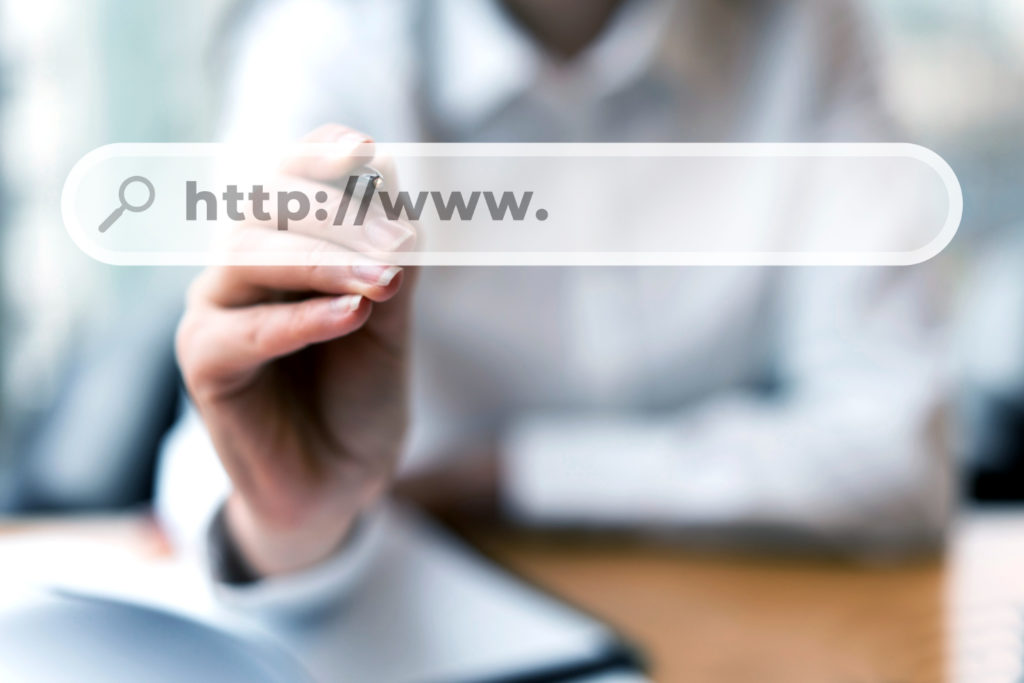 Backlinks are the backbone of SEO and a major factor in improving your website's ranking. If you're looking to increase your website's domain authority, ranking, and everything related to SEO, then you need to start building high-quality backlinks.
Fun Fact: A few high-quality links are better than thousands of low-quality ones. 

Backlinks boost your page rank and attract hordes of eager visitors to your site. Is there a way for you to grab those coveted backlinks before your competitors do?
Well, keep reading to find out!
What are Backlinks?
Let's start with the basics!
Backlinks, also known as inbound links, are links that point to your website from other website pages. They are essentially links placed on external websites that direct users to a specific page on another website. Think of backlinks as digital votes of confidence from one website to another. When reputable websites link to a page, search engines like Google perceive it as a validation of the page's relevance, quality, and authority.
Backlinks, basically, form an interconnected web of information on the internet, guiding users from one valuable resource to another. They serve as pathways for both search engine crawlers and users to discover and navigate through websites. For website owners and marketers, building a strong network of backlinks is an essential strategy to enhance their website's visibility, attract organic traffic, and establish their authority in their respective industries.
What are search engine backlinks?
Search engines view backlinks as indicators of trust and popularity. In their intricate algorithms, backlinks are considered a significant factor in determining a webpage's organic search engine rankings. The more relevant and high-quality backlinks a page accumulates, the higher its chances of securing a prominent position in search engine results.
Top Backlinks Checker Tools (2023)
Whether you're on a tight budget or ready to invest in your success, we've handpicked the top backlink checker tools just for you. Let's dive into our top recommendations: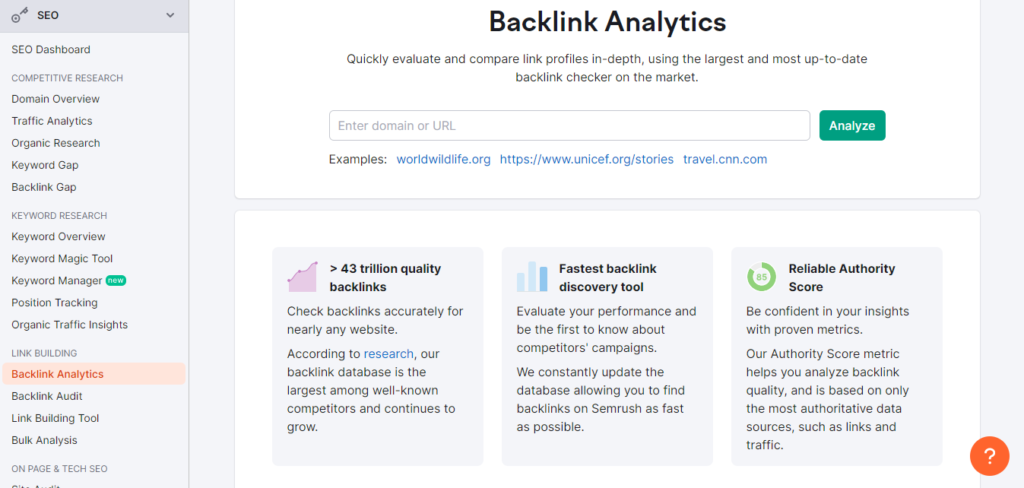 First up on our list is Semrush, a tool that needs no introduction. Renowned for its comprehensive features, Semrush equips you with all the necessary features to conquer search engine rankings.
With 43 trillion quality backlinks, it has the largest backlink database among well-known competitors, and it continues to flourish every day. It not only reveals the backlinks leading to your website but also analyses its quality and authority.
With Semrush, you can infiltrate your competitors' backlinks and uncover their strategies, thus gaining valuable insights on the go!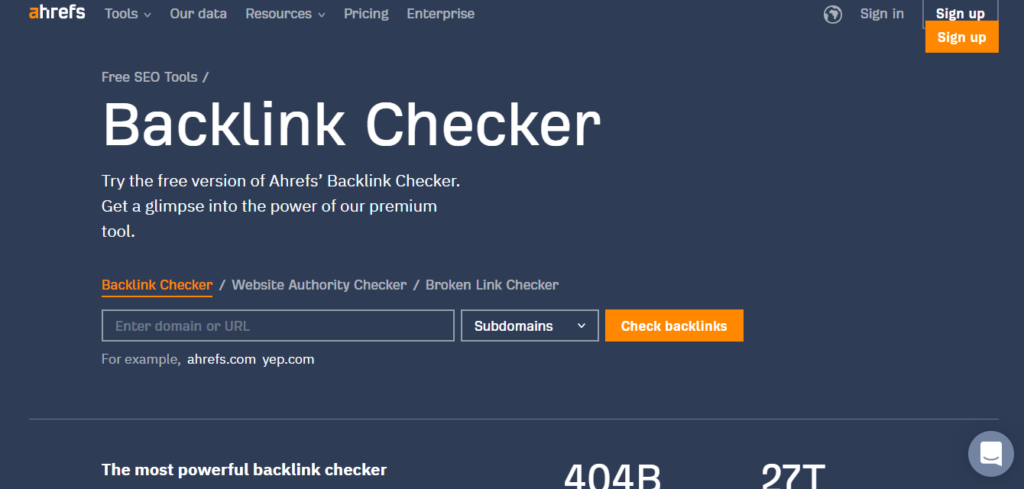 With its unparalleled database of over 27 trillion links, Ahrefs leaves no stone unturned in its quest to unearth every backlink pointing to your website. It effortlessly tracks your competitors' link profiles, allowing you to discover untapped opportunities and seize the high ground.
Ahrefs empowers you with in-depth analysis and reports, making you rise the SEO ladder in no time!
---
You might be interested in:
---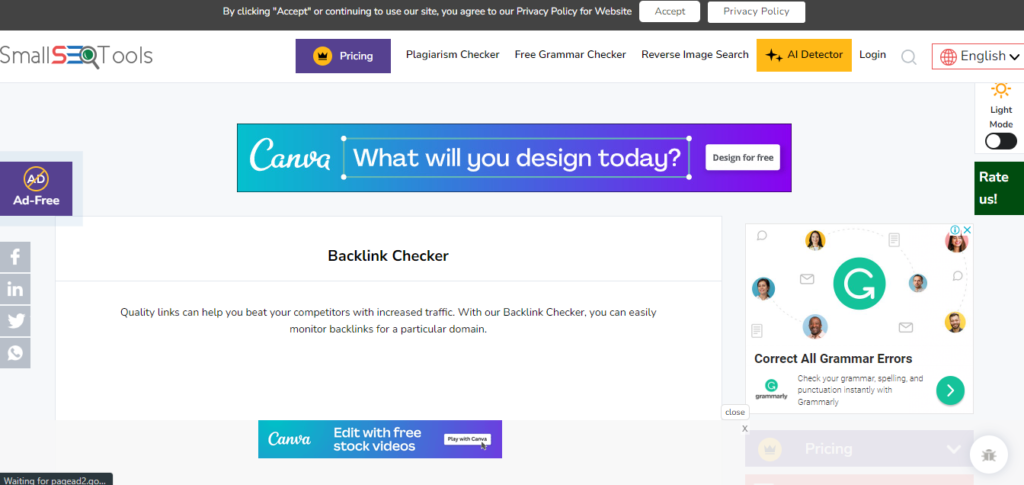 Though Small SEO Tools may lack the bells and whistles of a well-designed website, it packs a mighty punch when it comes to backlink analysis. With its user-friendly interface and impressive accuracy, this tool ensures you have a good SEO reach. It guides you through the complexities of backlink analysis with ease!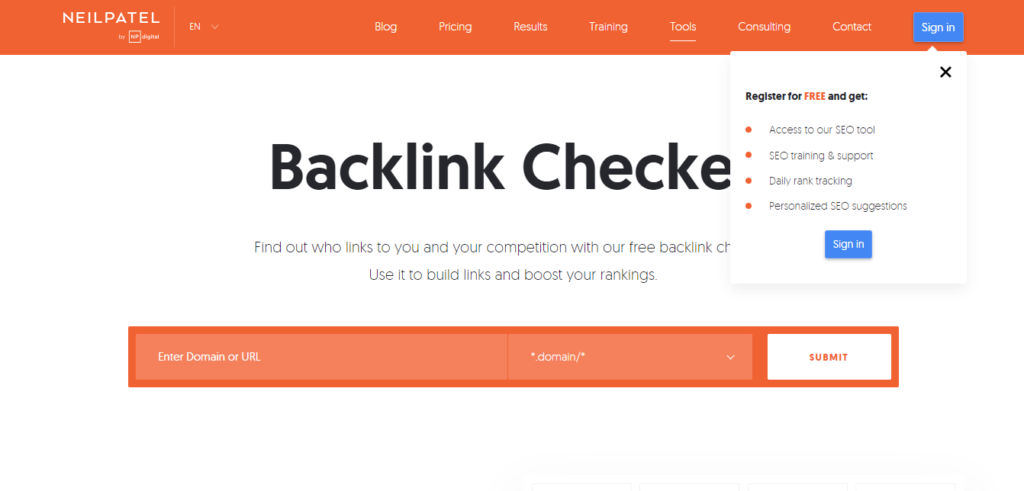 In the world of SEO, the name Neil Patel is synonymous with expertise and innovation. And his backlink checker tool is no exception. With a single click, Neil Patel grants you access to a magnificent amount of backlink data. From analysing your competitors' link profiles to tracking your website's progress, this tool offers a wealth of insights that will transform your backlink strategy.
Neil Patel's tool is your personal mentor, whispering secrets of success about SEO and everything you need to know!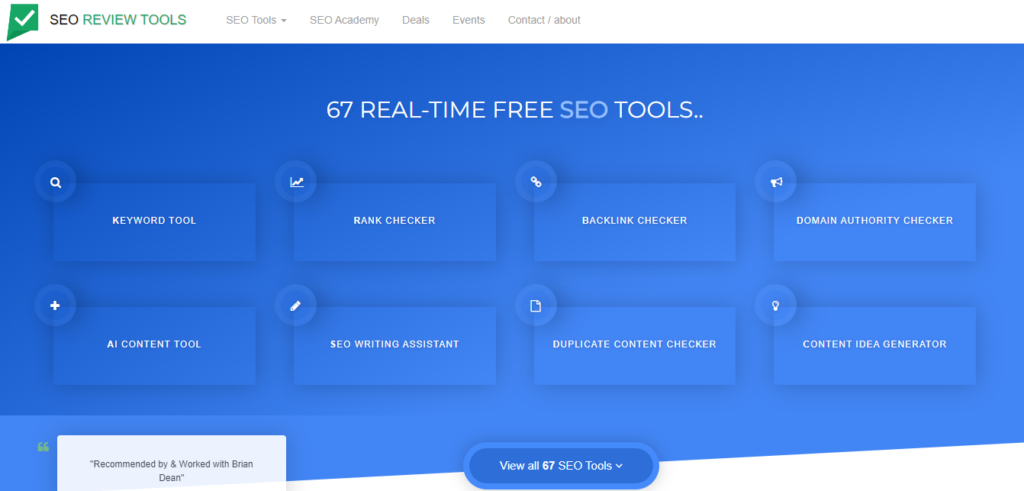 Lastly, we have SEO Review Tools. With its extensive range of features, this tool leaves no stone unturned. In the realm of backlinks, SEO Review Tools unmask your website's link profile and give you a sense of what your competitors are doing. With its intuitive interface and detailed reports, this tool equips you with the knowledge to outsmart your adversaries and rise to the top of the search engine ranks.
On an Ending Note:
We hope our article helped you uncover all the backlink checker tools you need to raise your SEO rankings. With these tools, you'll be able to understand the backlink strategies of your rivals and uncover opportunities waiting to be seized.
So, are you ready to catapult your website's SEO to new heights?
---
We can help you create a website of your own!