Go Back
Best Free WordPress Themes (2023)
By Team Agaetis,
May 29, 2023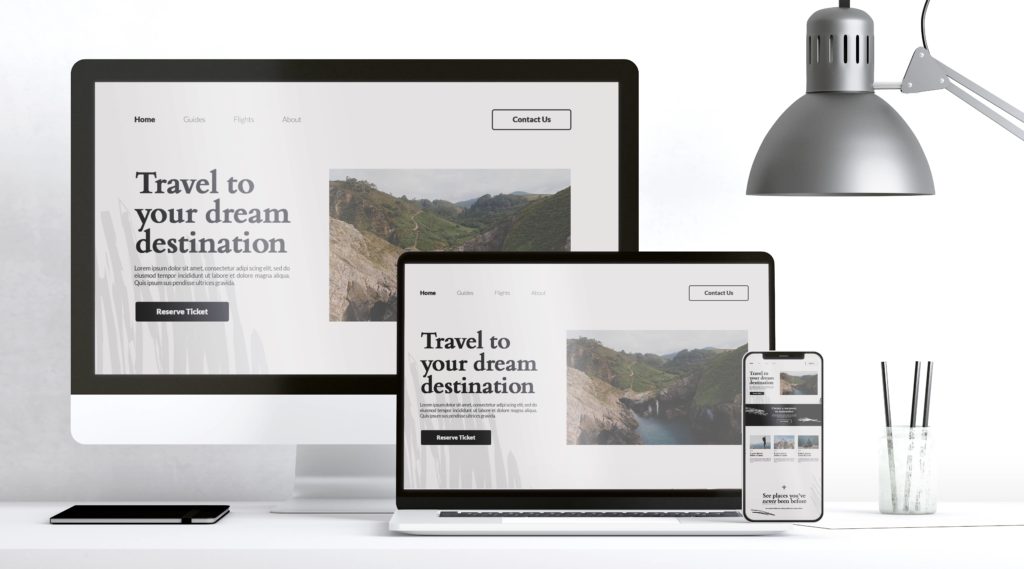 WordPress remains a vibrant platform today, with developers and designers continually creating themes to meet a wide range of preferences and aesthetics. It is so popular and customisable that many websites offer free themes for it. So if you're looking for something more, perhaps easier to use and more professional-looking best free WordPress Themes, then you are at the right place!
With an abundance of choices, it can be overwhelming to select the perfect theme for your website. That's why we've compiled a comprehensive list of the trending and best free WordPress themes available in 2023.
---
You might be interested in: Why You Should Choose WordPress For Your Website
---
The Best Free WordPress Themes 2023
Whether your goal is to find the top WordPress themes for business, the finest WordPress themes for blogs, or simply an exquisite and budget-friendly website for any purpose, these remarkable themes have garnered amazing reviews and are definitely worth the hype!

From minimalist, clean designs to bold and vibrant layouts, you'll find everything in our list!
You can easily modify these themes to align with your brand identity or personal style, whether you want to change colours, fonts, or layouts. Additionally, many of these themes come bundled with powerful page builders, enabling you to create unique and dynamic pages without any coding knowledge!
Let's go!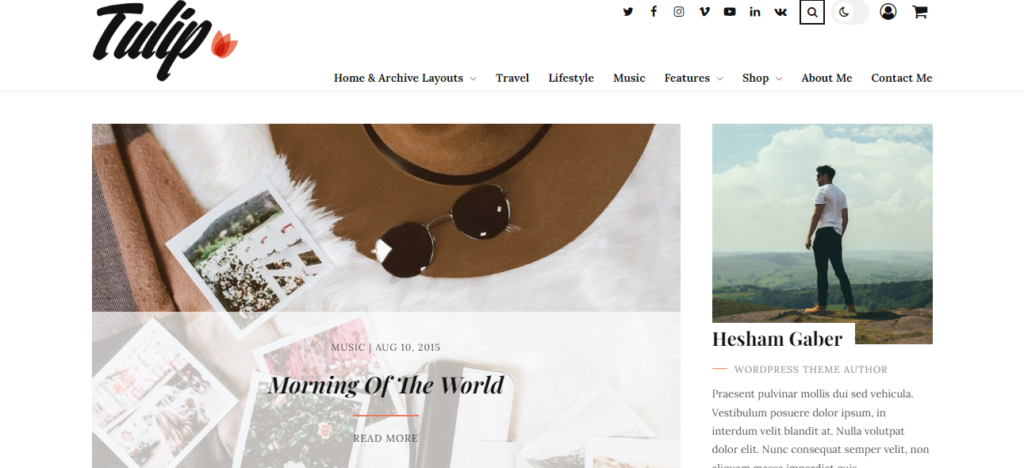 Features:
Diverse Blog & Archive Layouts – The Tulip theme offers an impressive selection of 15 layouts specifically designed for blogs, categories, tags, and other archive pages.
Effortless WooCommerce Integration – Establish your online store within a mere 5 minutes, allowing the Tulip theme to handle the challenging aspects.
Impeccable Responsiveness – Irrespective of the device being used, the Tulip theme boasts a consistently stunning appearance.
Dark Mode Capability – Empower your visitors to switch to their preferred colour mode effortlessly.
Seamless Customisation via Customizer – Designed to be effortlessly customisable through the WordPress Customizer, the Tulip theme empowers you to tailor your blog and store exactly to your liking, keeping it perpetually exceptional.
Prominent Posts Slider – Showcase important and top, trending posts in an exquisite manner through the featured posts slider.
Tailored Widgets – The Tulip theme boasts not only five custom legacy widgets but also a collection of original and customised widgets.
Right-to-Left Language Support – Craft your blog and store in any language, including right-to-left languages.
Multiple Post Formats – With four post formats available (Standard, Audio, Video, Gallery), the Tulip theme ensures versatility in presenting your content.
2. Astra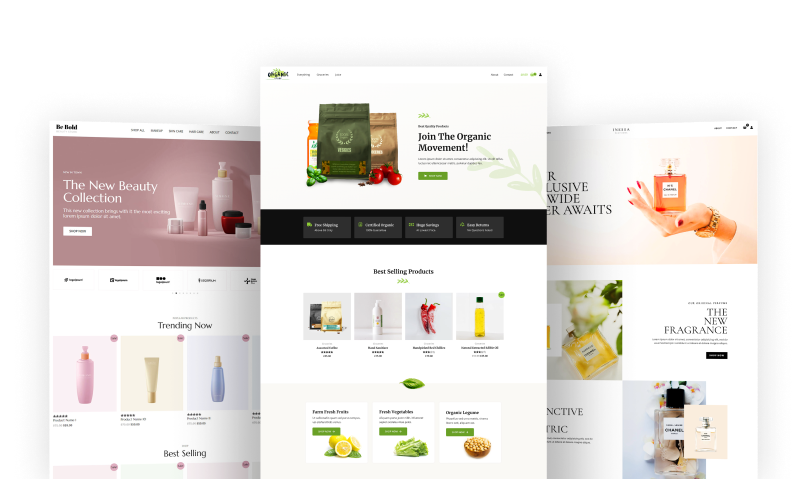 Features:

Vast Template Library – Around 240+ Ready to Import website templates.
Highly Popular – Boasts a user base of over 1 million, making it the most popular freemium WordPress theme.
Notable features – Stands out for its lightweight nature, with a total page size of under 50 KB. Thus, resulting in improved loading speed, SEO, and user experience.
Suitable for – all kinds of websites.
Wide Range of Templates – Offers more than 100+ free WordPress templates. Caters to a wide range of website types, including eCommerce and personal blogs.
Seamless Integration – Gels perfectly with your WordPress Website.
3. Neve
Features:
Responsive Design – Created with a mobile-first approach, the Neve theme ensures your website looks great on smartphones, tablets, and desktops.
Lightweight and Fast – Optimised for speed and performance, allowing your website to load quickly and provide a smooth user experience.
Match your Brand's Identity – Provides a wide range of customisation options, including multiple header and footer layouts, custom widgets, colour schemes, typography settings, etc.
Supports popular Page builders – Fully compatible with popular page builders like Elementor, Beaver Builder, and Visual Composer. It allows you to create stunning custom layouts using a drag-and-drop interface.
Starter Sites – Offers a collection of professionally-designed starter sites that you can import with a single click. Starter sites cover various niches and provide a great starting point.
WooCommerce Integration – If you plan to set up an online store, Neve seamlessly integrates with WooCommerce, the leading WordPress Ecommerce plugin.
SEO Optimised – It is built with clean and optimised code, supports schema markup, and supports popular SEO plugins.
Accessibility Ready – Provides accessibility and includes keyboard navigation support, colour contrast options, and screen reader compatibility.
Translation and RTL Support – You can create a multilingual website or support languages written in right-to-left (RTL) scripts with Neve's built-in translation and RTL support.
4. Yoome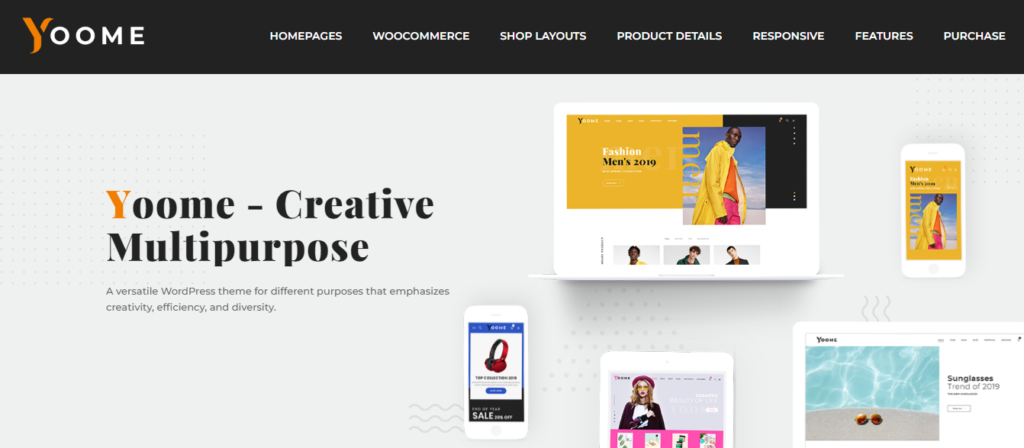 Features:
Unique homepages – Explore over 8 unique homepages that offer a diverse range of layouts and designs.
Personalise it to your Tastes – Customise the layout of your product pages with a variety of options. All your products are presented in the most visually appealing and informative way possible.
Seamless Adaptability – Enjoy a fully responsive experience with the assurance that your website will adapt seamlessly to different devices and screen sizes.
Enhanced UX – Benefit from the convenience of a built-in mega menu that enhances navigation and improves user the experience.
Extra Plugins – Enhance your website's visual appeal with the inclusion of the amazing Slider Revolution plugin, saving you $85 in the process.
WooCommerce Integration – Unlock the potential for online selling with WooCommerce compatibility. Set up and manage your online store effortlessly.
Product View and Filtering – Enable quick product viewing for your customers, ensuring a seamless browsing experience and encouraging conversions. Simplify product filtering for your customers by allowing them to browse and filter products by colour.
Ecommerce Variation Features – Provide customers with the ability to view product variations and choose different colour options using colour swatches.
Redux Framework – Take full control of your website's settings and customisation options through a powerful theme options panel powered by the Redux Framework.
Seamless Functionality – Create unlimited sidebars to enhance the layout and functionality of your website.
Multi-Widget Support – Enjoy the flexibility of multi-widget support, allowing you to add and customise various widgets throughout your website.
5. Mesmerize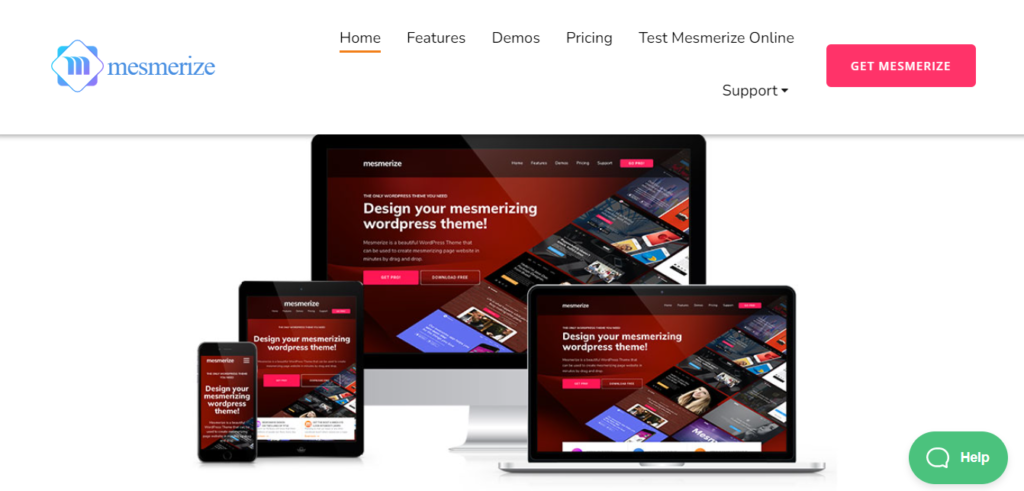 Features:
Predefined Designs – Effortlessly enhance your site with predefined designs for both header and content sections, ensuring a visually captivating layout.
Content Blocks – Choose from over 30 predefined content sections (50+ in the pro version). Simply add engaging elements to your pages with just a single click.
Customisable Layout – Tailor each section's layout according to your preferences using the intuitive section settings panel, allowing for seamless customisation.
Responsive Design – Designed to be fully responsive, ensuring that every section looks stunning and functions flawlessly across various mobile devices.
Video and Slideshow Backgrounds – Gives your website a modern touch. You can incorporate captivating video or slideshow backgrounds that instantly grab attention.
Awesome Icons – Enjoy access to the entire Font Awesome icon library, eliminating the need to search for suitable icons elsewhere.
---
You might be interested in: WordPress Plugins for Social Media (2023)
---
6. Zakra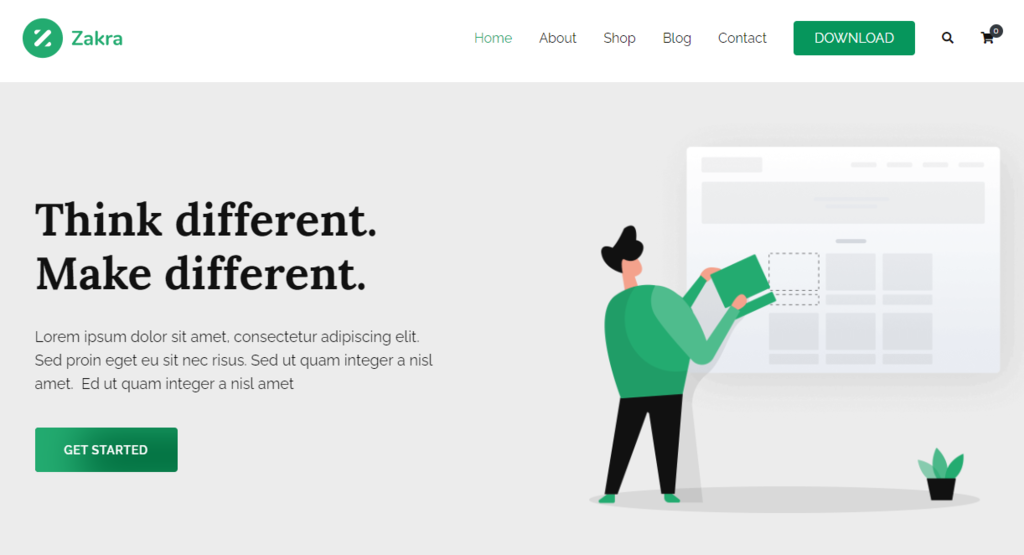 Features:
Starter Free Sites – Comes with a collection of starter free sites, including 10+ options (with more to come).
Pre-designed templates – Provides templates that cover various niches, such as personal blogs, portfolios, WooCommerce stores, business websites, and niche-based sites like cafes, spas, charities, yoga studios, weddings, dentists, and education institutions.
Flexibility and Customisation – The theme is designed to be flexible, allowing you to create any layout you desire.
Seamless Plugin Integration – It works seamlessly with Elementor and other major page builders, enabling you to customise your website with ease.
Mobile-Friendly Interface – Provides a consistent user experience across different screen sizes and resolutions.
Gutenberg Compatible – Zakra is compatible with the Gutenberg block editor, the default content editor in WordPress. You can easily create and customise content using Gutenberg's intuitive block-based approach.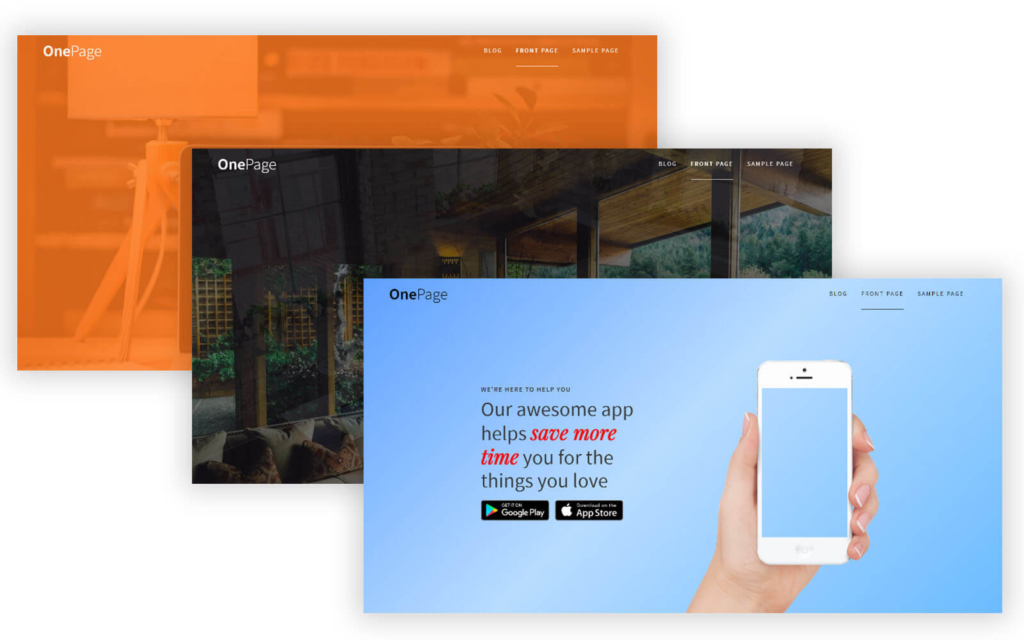 Features:
One-Page Design – One Page Express is designed specifically for single-page websites, making it ideal for portfolios, landing pages, business websites, and creative projects. It allows you to showcase your content in a sleek and seamless scrolling format.
Easy-to-Use for Beginners – The theme includes a powerful and intuitive drag-and-drop page builder, enabling you to create stunning layouts without any coding knowledge. Simply drag and drop elements onto the canvas to customise your page.
Pre-designed sections – Provides a library of pre-designed sections that you can easily add to your page. These sections cover various aspects like About, Services, Team, Portfolio, Testimonials, Contact, and more.
Customisation Options – The theme offers a wide range of customisation options, including colour schemes, typography settings, background images/videos, parallax effects, and more.
Responsive and Mobile-Friendly – One Page Express is built with a responsive design, ensuring that your website looks great on all devices. It adapts seamlessly to different screen sizes and resolutions, providing a consistent user experience.
WooCommerce Integration – If you plan to sell products or services on your website, One Page Express integrates seamlessly with WooCommerce. You can set up an online store and showcase your offerings directly on your one-page website.
SEO Optimised – The theme follows SEO best practises, helping your website rank higher in search engine results. It is built with clean and optimised code, includes meta tag options, and supports popular SEO plugins.
8. Genesis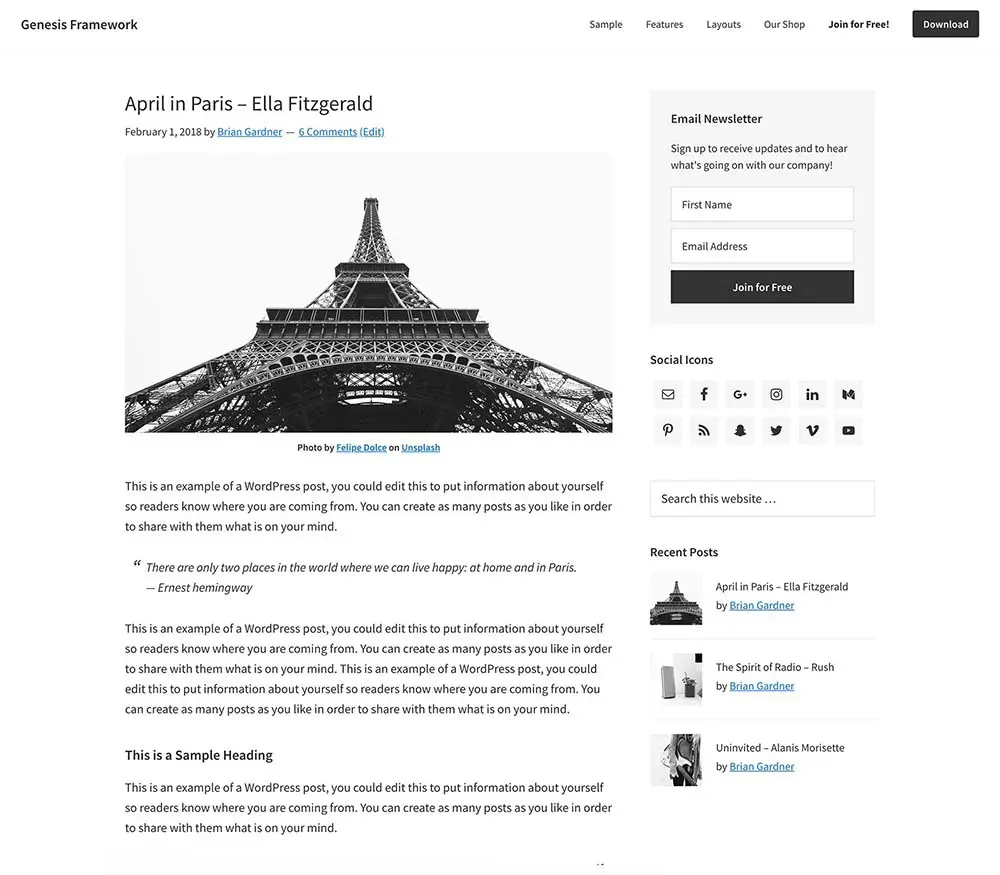 Features:
One-Click Theme Setup – With just a single click, you can load demo content, essential plugins, and expertly designed Gutenberg blocks directly onto your homepage, streamlining the setup process.
Community Oriented – You can become part of a thriving community of designers and developers who place their trust in Genesis as they build and enhance their websites.
Theme Customiser – Effortlessly tweak the theme's settings, colours, and content, all while previewing the changes in real-time through the intuitive Theme Customizer.
Customisable Logo – With a simple click, upload your own branded logo image, allowing you to establish and reinforce your unique brand identity from the very start.
Ecommerce Integration – Seamlessly integrates with WooCommerce, allowing you to effortlessly set up your online store and start generating revenue.
Mobile Responsiveness – The theme is flawlessly optimised for all browsers, devices, and screen sizes, ensuring a seamless user experience across the board.
Genesis Framework – As the foundation of intelligent WordPress design, Genesis offers unparalleled features such as advanced SEO capabilities and state-of-the-art airtight security measures.
Gutenberg Block Editor – Empower your end-users to customise individual modules and construct intricate digital experiences using the powerful Gutenberg Block Editor.
Accessibility Ready – Your website is primed to function flawlessly across diverse circumstances and cater to users with varying needs, ensuring maximum accessibility and inclusivity.
---
You might be interested in: WordPress vs. Wix – What's best for you?
---
9. Futurio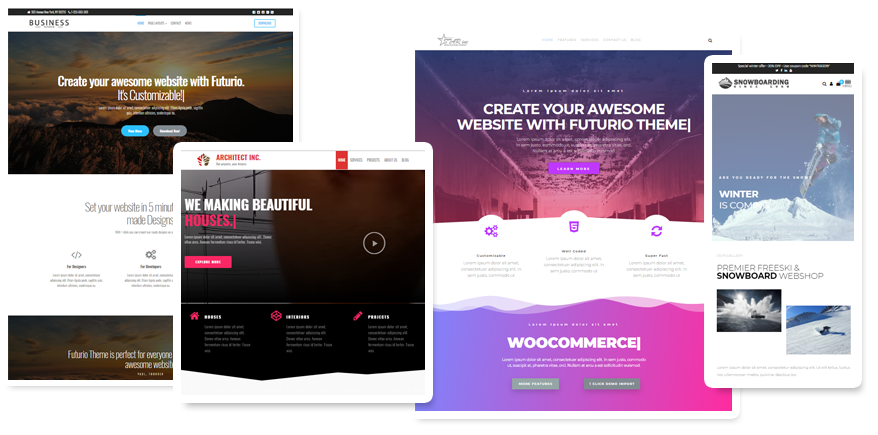 Features:
70+ Theme Options – Explore a wide range of theme options that provide complete control over the appearance and functionality of your website.
1-Click Demo Import – Effortlessly import any of the 10+ free demos with a single click, speeding up the website setup process and saving valuable time.
WooCommerce Support – Seamlessly integrate the power of WooCommerce into your website, enabling easy setup and management of your online store.
Page Builders Support – Enjoy compatibility with popular page builders like Elementor, to design and build your website exactly as you envision it.
Colour Presets – Choose from a selection of predefined colour presets to effortlessly apply a cohesive colour scheme that reflects your brand's personality.
Google Fonts – Access an extensive library of Google Fonts, enhancing your website's typography and creating visually appealing reading experiences.
Yoast SEO Support – Optimise your website for search engines with ease, thanks to seamless compatibility with the popular Yoast SEO plugin.
Menu Layouts – Customise your website's navigation menus with different layout options, ensuring smooth and intuitive navigation for your visitors.
Custom Widgets – Enhance your website's functionality with a variety of custom widgets that effortlessly display recent posts, social media feeds, or author information.
Elementor Elements – Utilise additional creative and highly customisable widgets designed specifically for the Elementor page builder. It enables you to create professional and original websites efficiently.
Social Icons – Seamlessly integrate social media icons into your website, allowing visitors to connect with your brand across various platforms.
Translation Ready – Easily translate your website into different languages, catering to a diverse and global audience. Additionally, switch to right-to-left (RTL) language support for languages such as Arabic or Hebrew, ensuring proper text alignment and readability.
Please Note:
The above-mentioned features may evolve over time, so it's always a good idea to check the official documentation or visit the website of the theme provider.
On an Ending Note:
We hope our carefully curated list of the best free WordPress themes was useful!
It doesn't matter if you're a seasoned WordPress user or new to the platform. These themes offer a combination of stunning design, advanced features, and flexibility that will make your website stand out.
Did you find the perfect match for your website?
---
You won't have to fuss over which WordPress theme to pick when you have Agaetis Technologies with you.
Contact Us Today to Get started with your WordPress Website!