Go Back
WordPress Facts You Didn't Know About!
By Team Agaetis,
June 7, 2023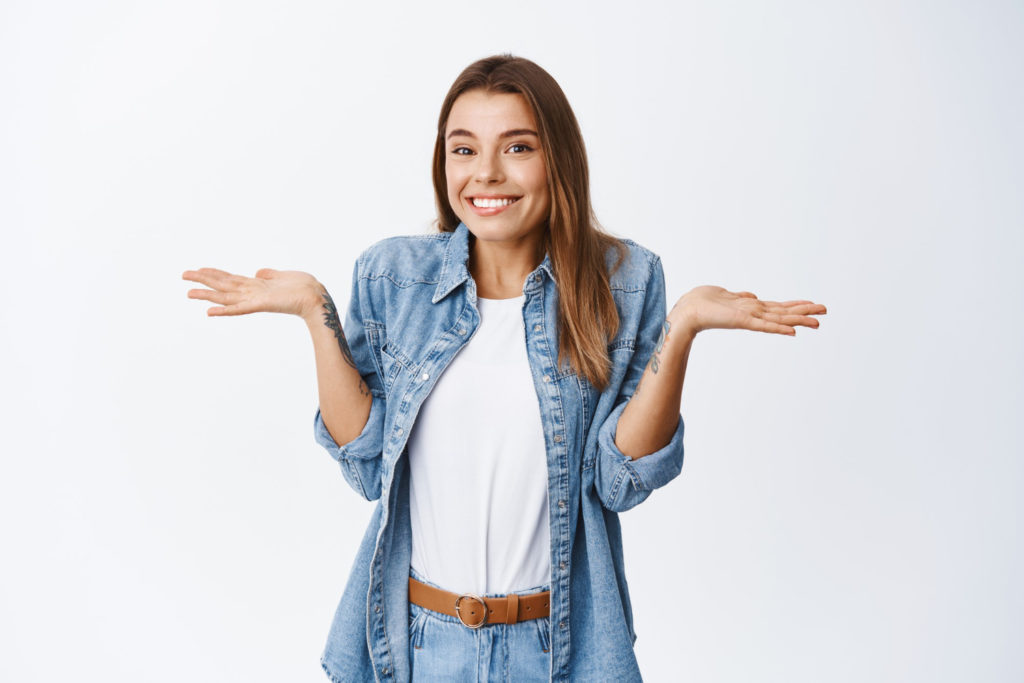 Let's explore WordPress and all its facts, my fellow digital enthusiasts! Whether you're an experienced web developer, a blogger, a curious content creator, or a techie individual seeking to unravel the secrets of the internet, you've come to the right place.
You may think you know WordPress like the back of your mouse-clicking hand, but hold on tight! You might not be aware of lesser-known aspects that will surely impress even the savviest of WordPress users.
But before we begin…..
What is WordPress?
As far as the word goes, it's a great platform for individuals of all skill levels to create websites. Whether you're a developer or a complete beginner, this powerful content management system (CMS) welcomes you with open arms, offering a user-friendly interface and a treasure trove of features that will leave you in awe.
An open-source foundation, it is built upon the collective brilliance of a global community of contributors. It is freely available for anyone to use, modify, and enhance. It is teeming with an abundance of themes, plugins, and resources that elevate the boundaries of what's possible with your website.
But what exactly can this CMS do for you? Well, it's much more than a humble blogging platform. While its origins lie in the world of blogging, WordPress has since evolved into a versatile and dynamic CMS capable of powering virtually any type of website imaginable. From sleek blogs and captivating personal portfolios to complex Ecommerce empires and powerful corporate sites, it can make the best websites possible for you.
But why WordPress, you ask?
Well, let's face it! WordPress has taken the digital landscape by storm. Powering almost half of the websites on the internet, it has become the go-to choice for everyone.
Today, it boasts a mind-boggling array of themes, plugins, and features, making it a versatile powerhouse for building websites of any kind.
It's time to move forward now that we're on the same page.
Get ready to be wowed by some mind-blowing WordPress facts that will make you say, "Whoa, I had no idea!". Let's go!
Top WordPress Facts You Need To Know:
1. A whopping 43% of the internet is powered by WordPress
WordPress is like a Pop-Star in the web development world, rocking the stage and powering more than 43% of all websites out there. That's right, readers, it's the Taylor Swift of content management systems!
From your friend's personal blog to the big shots like Fortune 500 companies and major news outlets, everyone wants a piece of its magic.
(W3Techs fact-checked this information.)
2. WordPress is older than Twitter and FaceBook
Back in 2003, WordPress started as a humble blogging platform—just a way for people to share their thoughts online. It budded and bloomed fast and transformed into a full-fledged CMS, allowing users to build websites, online stores, portfolios, and basically anything their heart desires.
In fact, it dates back to May 27, 2003, which makes it older than Twitter and Facebook.
3. WordPress Works-From-Home
Home is a popular place for the WordPress team to work. Isn't it cool?
Almost all communication and collaboration between the 400+ employees takes place through an internal blogging platform, and email is avoided like the plague!
4. The Core Code is Open to Everyone
This CMS isn't just popular, it's also open-source! What does that mean? Well, it's like a party where everyone's invited. Well, more like all coders and developer peeps are, at least.
The source code is out there for anyone to use, modify, and build upon. That's why there's a whole community of talented developers, designers, and fans who keep adding cool themes, plugins, and other goodies to make it up and running.
5. WordPress 6.2 has been Downloaded 82,612,264 times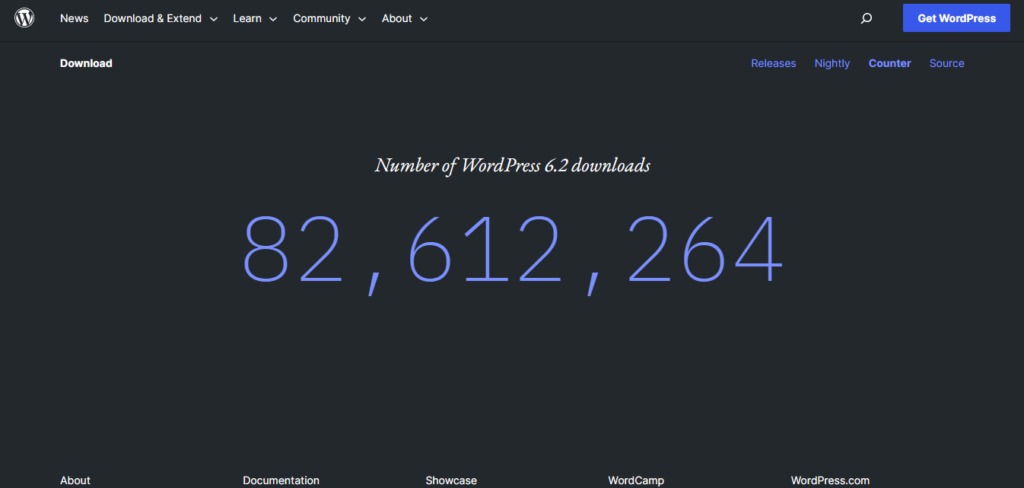 And the Counter keeps going up!
6. Available in over 200+ Languages
That's more languages than anyone can handle! It's a truly global CMS, allowing people from all corners of the world to create content in their own language and share their unique stories.
---
You might be interested in:
---
7. About 50+ Versions Released
Talk about regularly updating, right?
So now we bloggers can't whine about how we have to constantly update our blogs when WordPress itself does it too!
(You can check their Release Archives here)
8. One of the first to join the Mobile Buzz
We can't forget about the mobile revolution! You don't have to worry about your website looking unprofessional on those tiny smartphone screens. There's a whole bunch of mobile-friendly themes and plugins that make your site look real cute and work like a charm on phones and tablets.
9. A third of all online stores use WooCommerce
WordPress isn't just for blogs and business websites. Ecommerce is also part of its scope. With plugins like WooCommerce, you can create your very own online store and start selling your fantastic products. It's no surprise that more than one-third of all online stores use the WooCommerce plugin.
10. Brands Love It!
You don't have to be a blogger, business owner, or publisher to use WordPress. The University of Maine, Cornell University, and Des Moines University all use it. Top websites such as Forbes, Mashable, The New York Times, Samsung, PlayStation, and Coca-Cola also belong to this list.
11. Security is their Priority
The WordPress team is always on the lookout for pesky bugs and security vulnerabilities. They release regular updates to keep your website safe and sound. But remember, you gotta do your part too and keep everything up to date!
---
You might be interested in:
---
12. The VIP Program is Popular with its Customers
One might wonder if anyone even gets the VIP Plans for WordPress.
Well, yes, they do!
We're talking about big-time brands like The Walt Disney Company, Spotify, and The New York Times. They trust WordPress with their digital presence, and that's where the VIP program comes in. It offers them top-notch support, security, and scalability.
13. It has 50K+ Plugins in Store
More than 50K free plugins are available in the official WordPress Plugin Directory. Plugins allow you to extend the functionality of WordPress beyond its basic features. Even non-coders can do it all with the help of plugins!
14. Money Making Ways and all that jizz
There are a number of ways individuals can make money from WordPress: as a WordPress website designer, plugin/theme developer, SEO freelancer, website maintenance freelancer, WordPress content writer, and more.
15. A whopping 1.3 Million Dollar Revenue (2023)
Automattic, one of the world's largest WordPress businesses, generates $1.3 billion in annual revenue, followed by Envato, $194 million, and WPEngine, $73 million. Products, services, and solutions based on this CMS are sold by many companies and professionals worldwide.
16. The Most Popular Theme
Currently, over 500,000+ people use Avada by ThemeForest, making it one of the most popular WordPress themes ever.
It is designed to be easy to use and comes with pre-built demos and templates to get users started quickly. With regular updates, Avada continues to be an excellent choice for WordPress website builders.
---
You might be interested in:
---
17. WordPress.com vs. WordPress.org
Many are confused about what these two terms mean. Well, let's clear this up and get our facts straight!
WordPress.com is for beginners, while WordPress.org is for the geeks, the nerds, the professional website makers, and the server-setup people!
17. A Boon for Freelancers
Don't be surprised when we tell you that 25% of full-time freelancers earn income remotely through it. Moreover, 40% of small businesses use it, and it is the most popular way to conduct business online. This CMS is becoming increasingly prevalent due to its convenience, low fees, and ability to send money quickly and securely.
18. Mind-blowing PageViews
Brace yourself for a jaw-dropping statistic: In a single month, blogs within the vast WordPress network accumulate an astronomical average of over 20 billion pageviews. Yes, you read that correctly – billion with a "b." It's a number so colossal that it surpasses the population of our entire planet by nearly threefold. Take a moment to let that mind-boggling fact sink in.
19. Dominating Global Monthly Searches
The popularity of WordPress is truly staggering, and the numbers don't lie.
The growing esteem of WordPress is not only evident in its user base and the sheer volume of websites hosted on the platform but also in its online presence. A quick search on Google reveals a flurry of WordPress-related results, ranging from tutorials and documentation to forums and community support. The extensive ecosystem that revolves around WordPress reflects its immense popularity and the dedication of its users and enthusiasts.
With 2.7 million Global monthly searches, it's clear that the world is eager to discover, explore, and harness the power of this digital powerhouse.
20. Installs in the Blink of an Eye
It takes less than 5 minutes to install WordPress. And that's a record!
With a few clicks and a few minutes of set-up, your website can be ready to roll.
Please Note:
While the facts and statistics presented about WordPress in this article were accurate at the time of writing, it's worthwhile to note that the digital landscape is ever-evolving. WordPress continues to grow, adapt, and innovate, and ongoing developments may have emerged since the publication of this article.
On an Ending Note:
Now that you've been presented with an array of fascinating facts, it's time to reflect on your newfound knowledge and form your own opinion about it.
As the GenZ saying goes, WordPress is the Rizzmaster of the Town and we couldn't agree more!
WordPress is not just a platform; it's a global phenomenon, shaping the digital landscape and leaving an indelible mark on the way we experience the web. So, the next time you stumble upon a WordPress-hosted site, take a moment to appreciate the sheer magnitude of its reach.
After all, behind each website lies a story, a message, and a connection being made.
---
We can create a top-notch WordPress website for you. Contact Us Today!