Go Back
Benefits of Social Media Marketing (2023)
By Team Agaetis,
December 9, 2022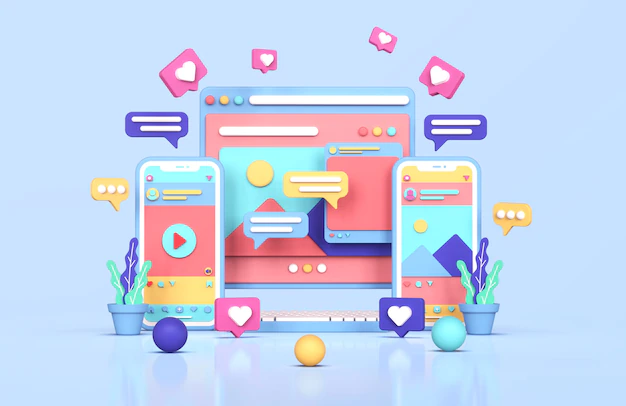 The Benefits of Social media marketing are great thanks to the rising popularity of social media platforms such as Instagram, Facebook, Pinterest, TikTok, etc. A few years ago, social media was just a way to stay in touch with friends, family and acquaintances, but professionals have monetised social media to the point where jobs like social media management and digital marketing have become popular amongst a majority of the MNCs and brands. For most small businesses, social media has been a critical component for marketing their products.
So how does social media marketing help you? Whether you're using Social Media Marketing for your brand, business or personal use, it has many benefits.
Top 10 benefits of Social Media Marketing:
Builds Trust and a Sense of Security
About 61.5% of buyers check out social media before purchasing a product. With the benefits of social media marketing, customers have a greater sense of transparency by having access to double-check reviews, comments, and know other people's opinions. A good social media image fosters trust. Moreover, it gives the customers a sense of security that they will not be scammed, stolen, or cheated online.
Humanises your Brand with Social Media Marketing
Using the benefits of social media marketing to openly communicate with your audience lets them know that you are trustworthy, dependable, and approachable. It removes your brand's intimidation factor and gives it a human touch. If you use Twitter, you might've seen brands like Zomato and Swiggy use this very feature to crack jokes, make memes, and use slangs to communicate and engage with their audience in a more humourous yet relatable way.
Makes you more Accessible to your Audience
Social media allows you to connect and communicate directly with customers on a personal level. Using the benefits of social media marketing for your business goes beyond conveying your message, since customers can also like, comment, and share your products and services. Each platform has its own features that you can benefit from. In addition, consumers will be able to view and engage with you when you utilise several features provided by each platform. It enables you to create a more personalised relationship with your target market.
Boosts your Visibility
You can use benefits of social media marketing tactics to create events, promote sales, boost engagement, and see growth in no time with increased interaction and activity from your followers. In fact, even your followers can also help you gain exposure on social media. For example, one of your customers can tag your Wikipedia page creation services on their personal profile hence spreading the word. What an easy way to reach a large audience quickly!
Cost-effectiveness and other benefits
Social media is free! That's the best part about it. You can use it as you please. Even if you choose to spend money on certain features, managing the costs is still feasible since they are relatively low. Having a social media strategy makes it easier to navigate the rest of the process.
Gets Customer Feedback
With real-time engagement, you can take advantage of benefits of social media marketing to get customer feedback and give your end users a place for their voices to be heard, find out their complaints, discover possible problems within your products and learn about all of their queries easily. It gives you the opportunity to respond quickly, make changes and fulfil the needs and requirements of the customers as soon as possible and if not, then at least soothe the customers with pleasant comments. When a customer sees another user being satisfied, whether it is their own problem or someone else's, it gives them confidence that even their own queries will be solved thus improving your brand image in the long run.
Increases Customer Satisfaction
Social media provides a level of transparency to the end users. Social media is not just about marketing to customers, it's also about interacting with them. This can improve customer service and create one-to-one relationships. By using benefits of social media marketing and its transparent communication method, you can make customers feel special and appear caring thus increasing brand loyalty.
Drives more Website traffic
You can integrate social media posts to promote blog content, sales, discounts, offers and more to entice users. It is a great way to drive traffic back to your website and vice versa. By adding links, you can encourage your followers to click on your website, thus increasing your website's engagement.
Ad campaigns and Promotions
You can post ad campaigns on social media to gain more followers, promote events, increase sales, and gain exposure for yourself, your brand or your business like you would on any other advertisement channel. You can build a community of followers by simply boosting posts or stories.
Gain Insights and Analytics
Your posts, stories ads and events can now be tracked through social media apps such as Instagram, Facebook, and so on. You can learn more about who your followers are, what content they like and interact with, and identify what trends and patterns are most popular. You can use these insights to curate your page according to your user's engagement patterns.
Benefits of Instagram Marketing
Instagram has taken the social media world by storm, and harnessing its power for marketing can yield incredible results. Here are some captivating benefits of Instagram marketing:
a) Visual Storytelling: Instagram's focus on visuals allows you to tell your brand's story in a compelling and creative way. With captivating images, videos, and Instagram Stories, you can engage and captivate your audience like never before.
b) Wide Reach: With over 1 billion active users, Instagram offers a vast pool of potential customers. It enables you to reach a global audience and connect with users who align with your brand's values and interests.
c) Influencer Partnerships: Instagram is a hub for influencers, who have built massive followings and possess the power to sway consumer behavior. Collaborating with influencers can give your brand exposure to their loyal and engaged audience, driving brand awareness and increasing conversions.
Benefits of Pinterest Marketing
Pinterest may often be overlooked, but it holds incredible potential for businesses. Here's why Pinterest marketing can be a game-changer:
a) Visual Discovery: Pinterest is a visual search engine, where users discover new ideas, products, and inspiration. By creating eye-catching pins, you can showcase your brand, products, and services to users actively seeking inspiration and solutions.
b) Increased Website Traffic: Each pin acts as a gateway to your website, driving traffic directly to your content. With well-optimized pins and strategic pinning strategies, you can attract high-quality traffic and potential customers.
c) Longevity of Pins: Unlike other social media platforms, pins have a longer lifespan. They can resurface and gain traction months or even years after being pinned, providing ongoing visibility and engagement for your brand.
Fun Fact: Did you know that 84% of Pinterest users use the platform when they're trying to decide what to buy? Talk about a goldmine for businesses!
Benefits of TikTok Influencer Marketing
TikTok has taken the world by storm with its short-form videos and engaging content. Leveraging TikTok influencer marketing can have remarkable benefits for your brand:
a) Authenticity and Relatability: TikTok influencers have cultivated loyal followings by being authentic and relatable. Partnering with influencers allows your brand to tap into their credibility, connecting with a younger audience in an organic and authentic way.
b) Viral Potential: TikTok is a breeding ground for viral content. When an influencer creates a compelling video featuring your brand, it has the potential to go viral and reach millions of viewers within a short span of time.
c) Increased Brand Awareness: TikTok's popularity continues to skyrocket, making it an excellent platform to increase brand visibility and awareness. Influencer collaborations can introduce your brand to a massive and engaged audience, generating buzz and curiosity around your products or services.
Benefits of Facebook Marketing
Despite being one of the older social media platforms, Facebook still holds immense value for marketers. Here are some captivating benefits of Facebook marketing:
a) Wide User Base: With over 3.5 billion monthly active users, Facebook offers an enormous potential audience for your brand. It allows you to target specific demographics and interests, ensuring your message reaches the right people.
b) Robust Advertising Tools: Facebook's advertising platform provides powerful targeting options and detailed analytics, enabling you to create highly effective ad campaigns tailored to your audience's preferences and behaviors.
c) Community Building: Facebook allows you to build and nurture a community around your brand. Through engaging posts, discussions, and events, you can foster a sense of belonging, loyalty, and trust among your audience.
So, whether you're captivated by Instagram's visual storytelling, Pinterest's visual discovery, TikTok's viral potential, or Facebook's community-building prowess, there's a social media platform waiting to elevate your marketing efforts. Embrace the power of social media, tap into its benefits, and watch your brand soar to new heights of success!
On an Ending Note:
Social media marketing is a very useful tool that can help you in ways you didn't know existed. Once your social media marketing strategy is implemented, it will hold many benefits for your brand in the long run. It is a creative process that requires dedication, imagination, and ultimately striving to always be a part of the ongoing trends. As social media evolves, so should your marketing strategy.
---
Read more about the Benefits of Social Media Marketing here!