Go Back
What is UX Design? : 2023 Guide + Free Courses
By Team Agaetis,
April 2, 2023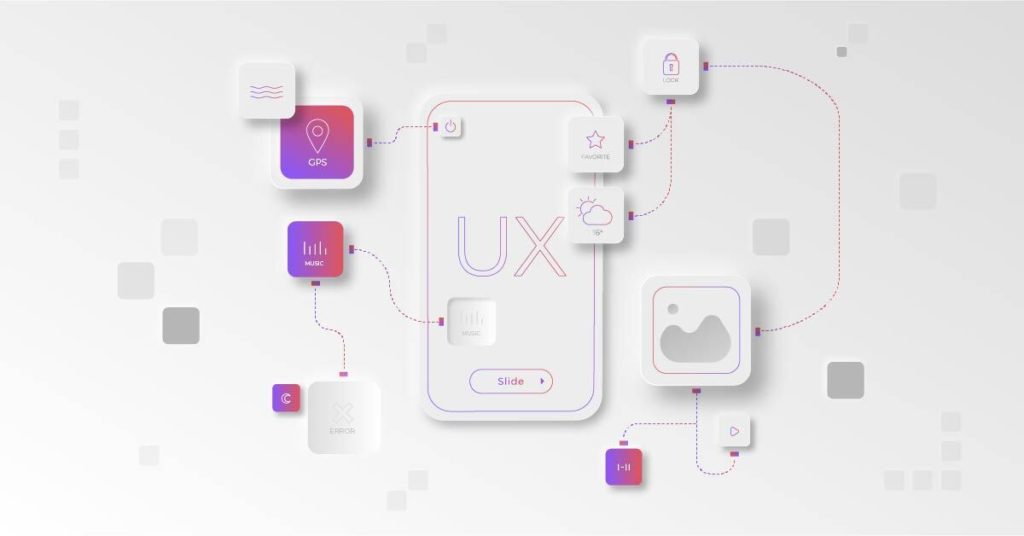 The basics of UX design are essential for anyone who wants to pursue a career in UX design, regardless of their experience level. There is a lot of talk about what UX is and what it means in the design industry. Here you'll find everything you need to know about UX design fundamentals. Without further ado, let's begin.
Here's what we'll cover:
The 3 Basic Components of UX Design
What is UX Design?
A user is a person who is directly involved in interacting with your product. UX design is the process of creating a product or solution in order to shape the user's experience with it, including how they interact with it and whether or not that experience satisfies them.
The UX design process revolves around identifying the needs of the users and designing the product accordingly. UX design is all about learning how the user defines your product based on their interactions with it.
The 3 Basic Components of UX Design:
There are various factors to keep in mind when creating UX designs. In order to better understand UX design, we have divided it into three components.
Aesthetics – Ensuring that the product is visually appealing with an enticing design that catches the user's attention and its marketing viability.
Functionality – Though functionality is often confused with usability, they are different when it comes to UX. Functionality is determined by how the product solution functions, how it meets the user's goals, and whether or not it is effective.
Usability – Usability refers to how the user feels while using the product and other factors such as ease of use, convenience, how comfortably needs are met, and how effortlessly goals are achieved.
All three components are part of a good UX design.
What do UX designers do?
We are all curious to know what UX designers do in their daily work routines. Most of the time, the designer needs to search for inspiration, do research in advance, finalise a mental design, create a prototype (early sample or model) with the needs of users in mind, and finally test the product before it goes live.
To generate a design, UX designers consider interface principles, usability frameworks, information structure, personas, and schemas.
The 5 Principles of UX Design
Though there is a list of design principles all over the internet, we can't follow them all. In fact, there are books such as The Universal Principles of Design (125 principles) and The Pocket Universal Principles of Design (150 principles) that are great resources. The question is, how easy is it to apply them all, or even remember them all? Don't worry. We have simplified the process for you!
All designers usually follow 5 basic UX design principles, apart from implementation. You can find a comprehensive list of them below:
Empathise
It is paramount that UX designers put the user at the centre of everything they do. The user is not just the one who uses the end product; the user is the one who has been a part of the product since the beginning of the journey. Hence, the user's experience is completely based on how well you empathise with the needs of the target audience and create a product that achieves that end goal.
During the design process, UX designers will place themselves in the perspective of the audience to conduct user research. They will visualise the problems, understand their expectations, and determine what a good experience can be based on the audience's preferences.
Define
Designing to resolve complex problems can be a tricky task, especially when the process is long and the outcome is far away. In the second stage of UX design, you need to identify the key parameters of how you intend to work on the project, the direction you intend to take, your plans, and your long-term as well as short-term goals. Once you have a well-defined strategy in place, it becomes much easier to work towards your vision.
Ideate
In the third stage of the design process, the designers go into "complete brainstorming mode," where they jot down all of their thoughts without any judgement, visualise all the possibilities, and sketch out their ideas. A big part of the ideation process is to visualise a product that is intuitive enough to help the user navigate and interact with it better.
Designers take into account factors like Gestalt psychology, adaptability, features and functions, and the mindsets of the users. There is no doubt that better results will follow a well-executed ideation process.
Prototype
Just because the prototype has been made doesn't mean that the creative process is over. In fact, the creative process has just begun. Prototyping is the first step in determining whether your product will skyrocket or flop, only to give birth to something better.
Once the prototype is ready, the designer needs to check the usability of the product. Usability entails taking into account individuals of various ages, ethnicities, and backgrounds and ensuring that the design is inclusive to all. Ideally, user experience designers must have a universal moral compass to build in a way that is suitable for everyone.
Test
The last step is to test whether the product is achieving the desired results and is in line with your objectives. Testing the product also requires understanding which features are working best and which areas need tweaking. This helps you fix and correct the errors before marketing the product and allows you to understand its true potential.
You can also check whether the user's requirements are being met by getting their feedback. Getting insights from your users not only gives you a better understanding but also provides them with a sense of ownership and belonging.
By following these five steps in UX design, you will be able to create a product that enriches the interactions and enhance the way users interact with it.
To know more, read How to Improve User Experience: 10 Tips.
List of Free Courses:
There are several websites that provide free courses on User Experience Design. We have listed the best ones below:
We hope our guide helped you understand the core principles and Fundamentals of UX design. Be sure to bookmark this post so that you don't miss any important updates!
---
Are you interested in learning more about the design space? Our blog has plenty of great content, so Click here to check it out.
You can also Get in touch with us if you need any assistance with UX design.