Go Back
What Does a Content Designer do?
By Team Agaetis,
March 20, 2023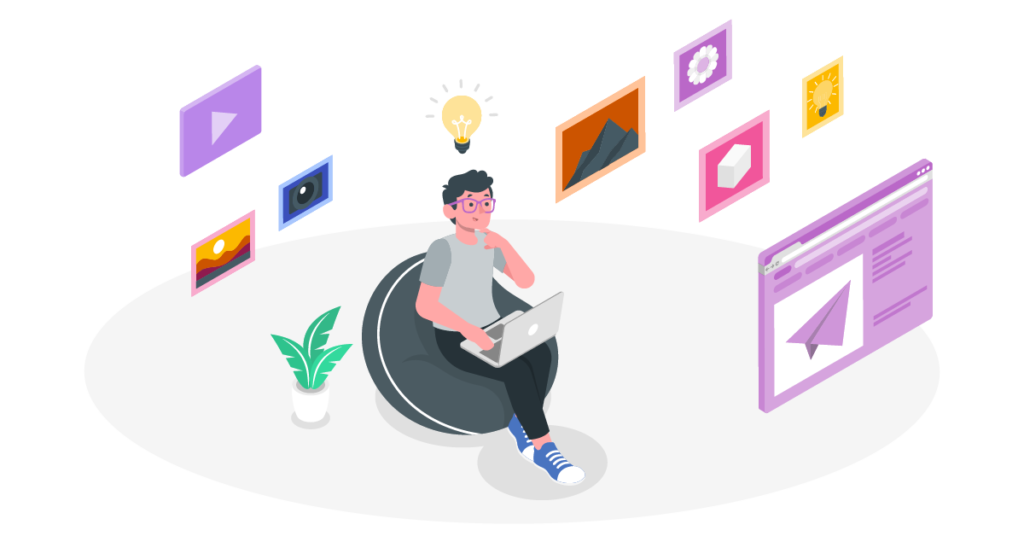 A Content Designer is still an emerging role in the design industry. It is still in the beginning stages of getting acknowledged, as the term "UX Writer" is still interchangeably used for both.
Content design has had a profound impact in both the fields of UX design and content writing – it is now a combined process. And that means the job role and responsibilities of what a content designer does may vary in different organisations depending on the set rules and requirements. Additionally, you will need to have diverse skills in the writing domain along with a user-centric understanding of what a user wants from your product and what message the organisation wants to convey. 
Content Designer: Roles and Responsibilities
Here's an overview of the roles and responsibilities associated with being a content designer.
In-depth research
As with any user-based writing role, a content designer must conduct research to understand what the user's expectations are from your end product. When creating content for your product, it is crucial to research what your company needs, what the brand guidelines are, and who the intended target market is in order to simplify the process so that it not only adds value to the product but also provides a solution to the user. You can also go through market reports, case studies, and previous survey data to get a concrete understanding and a comprehensive overview of the entire subject.
User Interviews
Researching also involves conducting surveys, questionnaires, and direct interviews to understand what the needs, wants, desires, and problems of the end user are and effectively provide solutions through the product. This is the most effective method of research as it provides a deeper understanding of the kind of content that needs to be written, helps learn what the end user wants, and minimises any miscommunications.
Analysing UX requirements in detail
Every content designer must have a clear, solid understanding of the Fundamentals of UX design – the personas, design principles, a detailed understanding of the user journey maps, user flows, visual storyboarding, the ability to script interactions and communicate with users. In order to create content that is user-friendly, content designers must be aware of UX guidelines and prioritise content creation accordingly.
Content Strategy
The next step is to formulate an overall content strategy based on the research and planning. Adapting content strategies to the dialect of the end user, communication style, tone of voice, and message that resonates with the audience is all part of the role of a Content Designer.
Ideate and Edit
Every word that a user reads is part of the user experience journey. As a result, it is critical that the content you create is consistent with the solutions that are intended to be provided to end users. The content must be clear, fresh, and have a personal touch. The editing part is mostly to make sure you are adhering to the needs of the audience and the brand's standards.
Collaboration
As a content designer, you would be working with UX design professionals to identify problem areas and figure out solutions. The UX experts will explain the key parameters, the vision of how the product needs to be, and all the ideas associated with the creation process. Additionally, they will tell you what needs to be communicated and what format will be used – a video animation, an image, a website, or anything else.
Prototyping and Testing
It is not your job as a content designer to do prototyping or testing, so you rely on UX professionals for that. However, there are tools that allow you to create a prototype without having to go through the hefty design process. But your work isn't done until the prototyping and testing have been completed. You have to make the necessary changes until the final product is ready to go.
Embrace Feedback
No matter what career path you choose, encouraging feedback is part of your personal growth. When you get feedback, you can always generate new ideas. You can rework what you've already done, improve on flaws, and learn new skills. In the book writing services process, feedback is vital because it allows you to better understand the vision of your collaborators and team members. Make sure you get feedback every step of the way, whether it is on the first draft, the prototype, or the final product.
Content Designer Salary
Though it is still a growing industry, it is difficult to pin down what the actual salary of a content designer might be. The salary might also vary depending on different industries and the roles and responsibilities. According to Glassdoor, the average salary of a content designer is £46,813 / year in the United Kingdom and ₹834,070 / year in India. Many designers work on a freelance basis, so that information is not a part of the total statistics.
Content Design Resources
We have some Content Design Resources for you to browse:
The Best Tools for Content Design
Just click on the links to find out more!
Content Design is on the Rise
Content design, like digital marketing, content writing, and UX design, will definitely grow as technology advances. We are in the golden age of digital advancement, so being a content designer can become one of the most demanding jobs there is.
---
When you work with Agaetis, you can expect great results. Feel Free To Reach Out To Us.